M. Shadows(Matthew Charles Sanders) is the lead singer, songwriter, and Founder of Avenged Sevenfold.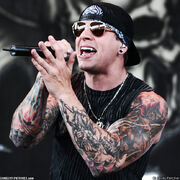 Musical beginings
Edit
Shadows started showing musical talent at an early age when he played piano. His rock interest grew when he played guitar and even formed a brief band called "Succesful Failure". He Formed Avenged Sevenfold with his highschool friends Zacky Vengence, Jimmy "The Rev" Sullivan, and Matt Wendt. Jimmy also invited Synaster Gates as the lead guitarist.
Musical Career
Edit
In 2001, the band released the album "Sounding the Seventh Trumpet'. Following positive reveiws, Shadows decided to release another in 2003, "Waking the Fallen".
Guest appearences
Edit
He appeared in different songs with other artists. These include:
Savior, Saint, Salvation, by Bleeding through
The River, By Good Charlotte
The End is Near, by Confession
Buffalo Stampede, By Cowboy Troy
Like Always, Kisses for King
Turn out the Lights, by Steel Panther
Nothing to Say, by Slash
and Go Alone, by Hell or Highwater.