Brian Haner Jr.,(Born July 7, 1981)
Or better known as Synyster Gates is the Lead Guitarist of
Avenged Sevenfold
.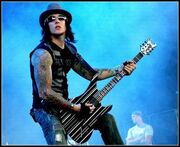 He also plays in the Band Pinkly Smooth
Biography
Edit
He studied at a Music Institute in Hollywood until His Friend, The Rev, to join his band. (Avenged Sevenfold) He joined in 1999 when the band was 18.
He uses a prodomininately Schecter guitars. Schecter Research has been sponsoring him for a few years. He also uses ESP guitars. (Waking the Fallen and City of Evil)
Ad blocker interference detected!
Wikia is a free-to-use site that makes money from advertising. We have a modified experience for viewers using ad blockers

Wikia is not accessible if you've made further modifications. Remove the custom ad blocker rule(s) and the page will load as expected.